Welcome!
Welcome to the First Congregational United Church of Christ website. We're happy that you have come to visit our site to learn more, and hope you will visit us in person (if you haven't already). Our church is a faithful community of believers, who seek to follow Christ, serving God in love and faith.
Our history in Norfolk is long. Our predecessors organized in 1870, joining the United Church of Christ in 1957. In 2020 we celebrated our 150th anniversary. Over the years, we have been known as First Congregational Church and First Congregational United Church of Christ, but our fundamental beliefs have remained the same: Loving God and loving neighbor.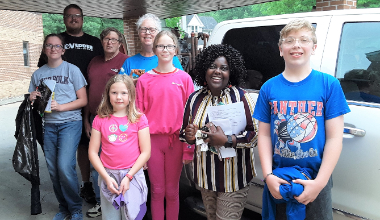 Pastor Alice Shomari with members of FCUCC
In June 2021, First Congregational Church donated about 80 childrens size chairs, 80 adult size brown folding chairs with arms, and 130 choir robes to churches in Congo (DRC). Ophan Grain Train will ship these and other items from Newman Grove Congo Mission and other organizations to churches in Kasumbalesa (a southern border town near Zambia).
Pastor Alice is an elder in the United Methodist Church. She has also served as a chaplain at Faith Regional Hosptial. She was born and raised in Democratic Republic of Congo. She founded Women of Diverse Confession (WDF), a non-profit that works on many mission projects. Pastor Alice writes that WDF "empowers and promotes people of diverse cultural backgrounds, faiths, and relgions to come together in good will to find solutions and develop community life."
Pastor Alice and her husband Rodgers Chishiba and family will be moving to serve United Methodist Churches in Kansas.
CONCERNING COVID-19
To encourage healthy communities during this Covid-19 season, we ask worshipers to maintain social distancing of 6 feet or more and we encourage the wearing of masks throughout worship. If you like, there are free masks on the table - our gift to you. Fellowship hour re-opens in June. If you are sick, at risk, or live with someone who is at risk, we encourage you to stay home. The situation remains fluid and we will evaluate as we more forward.
Follow this space, and our Facebook page for updates. https://www.facebook.com/First-Congregational-United-Church-of-Christ-660394054045693/

Though the ways we connect face-to-face has been limited during this season of Covid, Pastor Jackie, Susan, our leaders are here for you. Please let us us know of your needs and concerns.
Stay healthy, stay hopeful.
Youth Mission Work at Pine Ridge Reservation, S.D.
Our Photos
Come see a slideshow of our wonderful community, and get a glimpse of some of the many activities that take place at First Congo UCC.
Meet First Congregational United Church of Christ
Come to the About Us section to meet the staff and clergy, and find out what we're all about!
Save
Save
Save
Save
Save
Save
Save
Save